¿Estás conforme con la persona que eres actualmente?
¿Te has puesto a pensar cómo sería esa versión ideal de ti mism@?
¿Consideras que lo que estás haciendo actualmente está contribuyendo a sacar tu mejor versión?
Probablemente, ya has tratado de desarrollar tu mejor versión o de encontrar los recursos que te impulsen para vivir una vida con intención. Pero aún así, sientes como si algo faltara. Como si algo no terminara de cuadrar, ¿cierto?
Descuida, yo también me he sentido así.
¿Y sabes por qué?
Porque estaba viviendo la vida que me TOCÓ vivir y no la que QUERÍA vivir. Me conformaba con ser la persona que ERA, sin esforzarme por convertirme en la persona que QUERÍA SER.

Porque estaba dedicando la mayor parte de mi día a un trabajo donde cumplía los sueños de ALGUIEN MÁS mientras abandonaba los MÍOS. Aunque eso sí, tenía un gran puesto y ganaba lo que quería. Pero, como dijo Tony Robbins: «El éxito sin la autorrealización, es el mayor fracaso». 

Porque sentía que mis talentos estaban siendo desperdiciados y que no los estaba canalizando hacia algo que realmente me apasionara.

Porque estaba descuidando varias dimensiones de mi persona. Únicamente me enfocaba en la intelectual y en la profesional; y casi no tenía tiempo para estar con las personas que más amaba, ni para disfrutar pasatiempos, ¡o simplemente distraerme un poquito de tanta presión!

Porque no había algo que le diera un sentido trascendental a mi vida. Mi intuición me decía que si no hacía algo para convertirte en el cambio que quería ver en el mundo, mi existencia estaba como malgastada. Lo que más me llena es inspirar y ayudar a otras personas. Y, claramente, no estaba haciendo nada al respecto.
¿Cómo fue que logré salir de esa situación, digamos que, desafortunada?
Renuncié al pasado. Renuncié a esa vida sin sentido (y a mi trabajo). Y renuncié al conformismo.
Desde entonces, debo admitir que no ha sido un camino fácil. En este trayecto, me topé con ciertos villanos –errores– que me estaban impidiendo convertirme en la versión ideal de mi misma.
Y, como no quiero que estos mismos villanos te arrebaten el final feliz que merece tener tu historia, escribí este post para ti.
¡Así que comencemos!
Villano 1. El que no te deja ver tu Razón de Ser
Todos estamos aquí por una razón, y este atroz villano hará todo lo posible por que ni siquiera pienses o reflexiones sobre tu razón de ser. Ha estado haciendo todo lo que está en sus manos para mantenerte distraid@ y porque hagas cosas que no tengan nada que ver con tu propósito de vida.
¿Pero sabes como puedes combatirlo? Encontrando tu «Ikigai». 
Cuando conocí este concepto japonés que significa "tu razón de ser", supe de inmediato que la manera más eficiente para convertirme en la mejor versión de mi misma era primero encontrando mi Ikigai.
¿Por qué? Porque tu mejor versión sólo saldrá a relucir cuando estés haciendo algo que realmente te guste, te llene y te haga sentir feliz.
De lo contrario, lo terminarás abandonando o te sentirás frustrad@ (sí, esa misma sensación de que algo falta, y no sabes qué).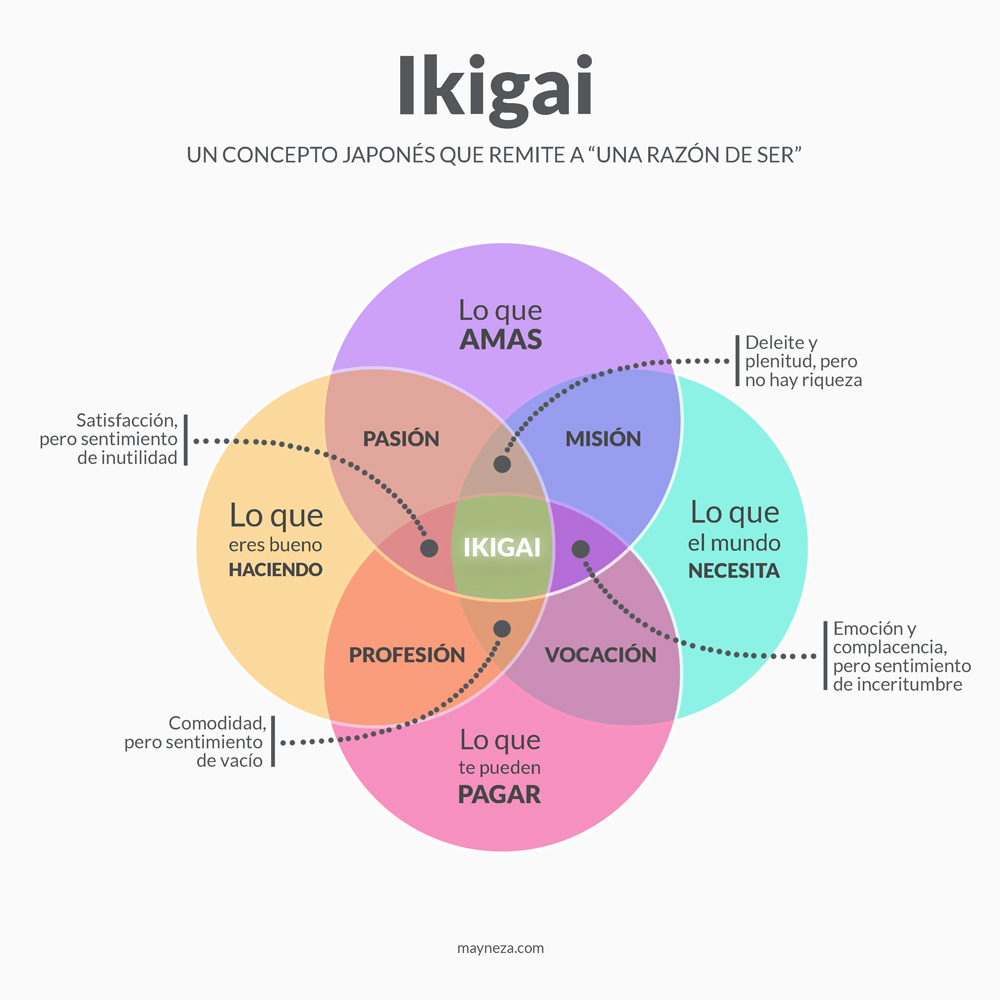 Como puedes ver, ikigai es ese spot donde se junta:
Lo que amas

Lo que haces muy bien

Lo que el mundo necesita

Y lo que te pueden pagar
Es esa combinación perfecta que contempla:
Tu pasión

Tu misión

Tu vocación

Tu profesión
Sé que puede llegar a sonar como un concepto algo utópico, pero si dedicas el debido tiempo para reflexionarlo, pronto lo resolverás y todo adquirirá mayor sentido.
"El propósito de la vida es una vida de propósito." –Robin Sharma
Villano 2. El que te engaña (y te la crees)
Al renunciar a todo lo que te conté, me quedaba claro que ahora lo que necesitaba era dedicar tiempo para nutrir mi ser y conocerme (sí, eso a lo que llaman introspección).
En el fondo sabía que no iba a poder dar mi mejor yo a los demás, ni conseguir todo lo que anhelaba, si no me sentía bien conmigo misma.
Y aquí es donde muchas personas se topan con este villano engañoso que les hace creer que tienen que tener recursos, tiempo, dinero, contactos, etc., para después poder ser quienes siempre han soñado. 
¡Pero tú no te vayas con la finta!
Tener dinero, por ejemplo, no va a cambiar la forma en cómo te sientes contigo mismo. Tus inseguridades y miedos estarán ahí con o sin dinero. Si no te sientes contento con quien eres o no crees en ti, el dinero no lo va a cambiar.
El secreto es SER para llegar a tener; no tener para llegar a SER; pues al aumentar tu riqueza interior, podrás aumentar tu riqueza exterior.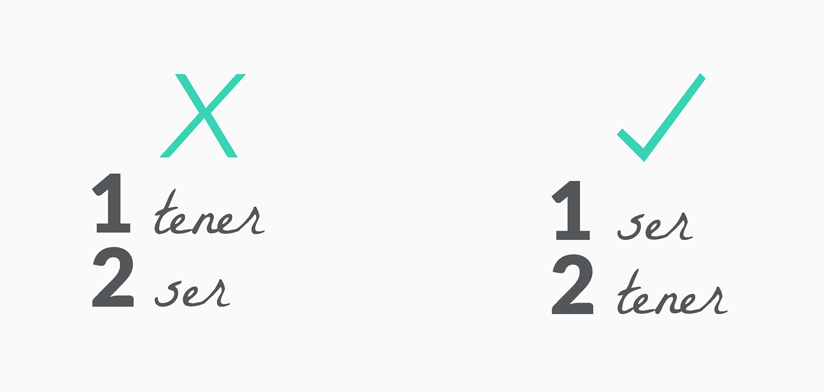 El vivir una vida tan ocupada, muchas veces hace que nos olvidemos de recargar nuestra pila interior y de nutrir nuestro propio ser. Y cuando está descargada, nos sentimos tristes o irritados por todo. ¿No te ha pasado?
Igual y ya lo habías escuchado antes, pero existen diversos dominios de la persona: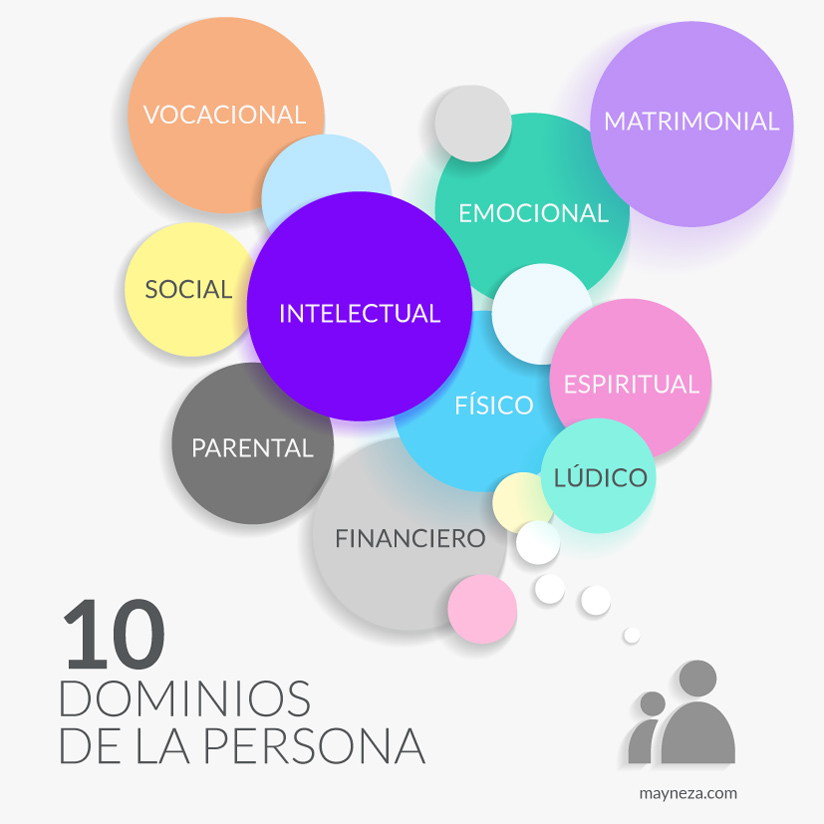 La idea es que no sólo te enfoques en una o dos áreas, sino que alimentes y equilibres todas. Cuando esto se logra, nos sentimos más completos y realizados como personas.
Date la oportunidad de ser quien te gustaría ser.
Lo que la mayoría de la gente hace cuando quiere nutrir su propio yo para desarrollar su mejor versión es:
Ir con un especialista

Tomar cursos de desarrollo personal

Acudir a grupos, conferencias o foros que hablen sobre el tema
Y no es que estas cuestiones estén mal, ¡al contrario! Sólo que a mí en lo particular no me fue tan bien cuando traté de implementar algunas para recargar mi propia pila.
Comencé a leer (bastantes) libros de autoayuda y superación personal. Y ¿te digo la neta? Acabé un poco más confundida.
¿Por qué? Porque como que no lograba armonizar ideas entre un libro y otro; incluso, a veces hasta sentía que se contradecían entre sí.
¿Cómo es eso, Mayneza?
Te pondré el ejemplo de dos expertos contemporáneos. Tim Ferris, autor del libro «La semana laboral de 4 horas«, propone ciertas técnicas para que te enfoques en lo que tiene un mayor impacto y trabajes MUCHO menos disfrutando más de la vida (¡un excelente libro, por cierto! Debe ser un MUST en tu lista).
Por otro lado, Gary Vaynerchuk en su libro ¡Hazla en grande! (bastante recomendable también) se muestra algo más estricto y cuenta que él ha alcanzado el éxito a través del trabajo constante y sonante (hustling, como diría él). Platica que en sus 20's casi no salía de tan enfocado y ocupado que estaba en construir sus sueños. Dudo mucho que Gary hubiera sido lo que hoy es si sólo hubiera dedicado 4 horas como propone Tim.
¡En fin! Seguro que hay una explicación lógica detrás, pero este es sólo un ejemplo de cómo había ideas que no lograba armonizar entre sí, y si no me hacían sentido del todo, ¿cómo me iba a animar a llevarlas a la práctica?  🤔 
En mis trabajos anteriores tuve la oportunidad de tomar un curso de liderazgo y otro de coaching. Y la verdad, acabé algo decepcionada.
Porque al ser cursos y tener ese enfoque como más académico terminé con la cabeza saturada de conocimiento, teorías y conceptos.
Pero el mayor problema fue que nunca tuve claro cómo poder llevarlo a la práctica. No había un sistema, método o proceso que nos permitiera incorporar la teoría a nuestra vida diaria.
Los maestros o ponentes sólo llegaban, exponían su avanzado y vasto conocimiento sobre psicología humana, y se regresaban a casa.
Además, aquí entre nos… Luego me di cuenta que algunos ni siquiera habían experimentado lo que predicaban. Quizá hubiera aprendido más del director de una compañía internacional que ha estado años en un cargo de líder, que del ponente que proyectó los apuntes del libro «Las 21 Leyes Irrefutables del Liderazgo» de John Maxwell (otro libro que no puedes perderte si te gusta el tema del liderazgo).
¿Qué te puedo decir?
Después de esta avalancha de conocimientos provenientes de diversos medios, al final opté por encontrar la manera de llevar a la práctica lo que había aprendido y me quedaba con lo que veía que funcionaba, no sólo para mí, sino mis para conocidos y las personas a las que les ofrecía mentorías o coaching.
Villano 3. Tú mismo al a

utosabotearte con estas 6 creencias
"Creer es crear". 
Estas fueron las palabras de una mentora y se me quedaron muy grabadas. Es algo simple, pero cierto. 
Lo que crees sobre ti y sobre el mundo, determina la manera en la que piensas. Tus pensamientos influyen directamente en tus actitudes; y tus actitudes, en tus acciones.
Y, al final del día, tus acciones crean tu realidad.
Te voy a revelar algo que probablemente no te hayan dicho antes: la mejor forma de desarrollar tu mejor versión es rompiendo con tus propios paradigmas.
«Una mente negativa nunca podrá darte una vida positiva».
Pero, ¿cuáles son esos 6 paradigmas o creencias que te pueden estar saboteando? 😮 
¡Vamos a ello!
Que tus defectos, debilidades y errores te limitan de alguna forma o te impiden que logres ciertas cosas.

Que puedes ser muy bueno en algo (¡genial!), pero siempre habrá alguien mejor que tú.

Que tienes que aceptarte tal y como eres.

Que tienes que conformarte con lo que tienes (querer más es sólo para la gente avara y ambiciosa).

Que no se puede tener todo en esta vida.

Que el pasado determina el futuro.
¿Te has dicho alguna de estas?
Para ser sincera contigo, yo me había creído todas y cada una de estas creencias 🙊
Y, lo que más me ayudó para empezar a revelar mi mejor yo fue, precisamente, romper con estas creencias y elaborar NUEVAS.
Nuevas creencias que propiciaran un entorno en el que pudiera crear la vida que tanto anhelaba y emprender el camino para convertirme en lo que siempre había soñado. De no haberlo hecho, seguiría atrapada.
Ahora, te diré por qué estas 6 creencias te están saboteando.
¡Vamos con la primera!
Creencia 1. Que tus defectos, debilidades y errores te limitan
Mucha gente cree que nace con debilidades y fortalezas. Y en ese sentido, están en lo correcto, pues no existe nadie perfecto o que no tenga defectos.
Te puede interesar: Supéralo: no eres, ni serás, perfect@
Pero… el error está en pensar que ahí acabó la historia. Que tienes que agradecer las virtudes, talentos y cualidades con las que naciste; y evitar las actividades donde sepas "que no eres tan buen@" o en las que no podrás brillar tanto como si se tratara de algo que sí dominas.
Por ejemplo, si consideras que una de tus debilidades es que te pones muy nervios@ al hablar en público, entonces, ser conferencista u orador no estaría en tu lista de prioridades, ¿cierto?
Y, precisamente, ¡ahí esta el error!
Em… ¿cómo? ¡Me estas confundiendo, Mayneza!
No, no.
Te explico.
En vez de huir o evitar aquellas situaciones donde salgan a relucir tus defectos o debilidades, la idea es enfrentarlas una y otra vez.
La invitación es a que todos los días hagas algo que te dé miedo, sométete a extremos que te inclinen a desarrollar tus talentos y a trabajar en tus defectos.
Pero, ¿qué ganas con eso?
Verás. Las cosas extraordinarias nunca ocurrirán dentro de tu zona de confort.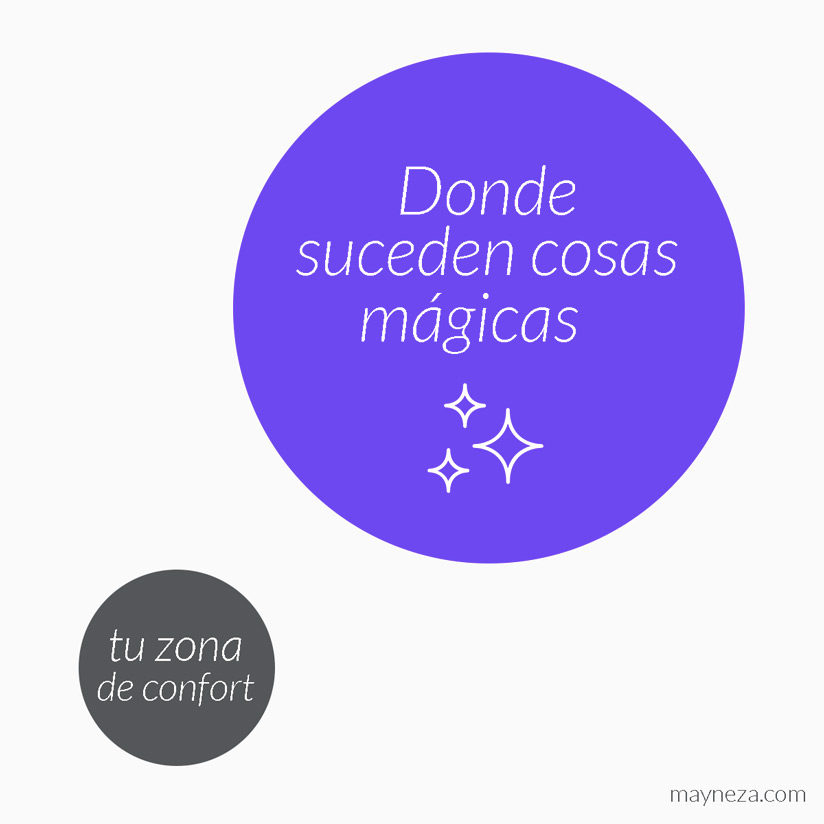 "Sólo la presión alta transforma al carbón en diamante." –Juan Diego Gómez
Esto quiere decir que deberías ponerte ante situaciones incómodas o inciertas, en las que se enfrenten en el ring de lucha, tú y tus miedos.
Nadie más.
¿Crees que suena aterrador? 
Un poco, he de admitirlo.
Pero eso no debe desanimarte.
«El crecimiento y el cambio son aterradores, pero nada es más aterrador que quedarte estático y no dejar salir Tu Mejor Versión.»
Haz cosas que te hagan enfrentarte a tus debilidades y demuéstrales de lo que eres capaz.
Cuando menos te lo esperes, la práctica constante, hará que esas debilidades ahora constituyan parte de tus fortalezas.
"El que vence a los demás es fuerte. Pero el que se vence a sí mismo es realmente poderoso". –Lao Tzu
Convertir tus debilidades en fortalezas no es un mito… 
Años atrás, yo era una persona muy penosa e insegura. MUY.
En la primaria ni siquiera podía soportar el hecho de pasar al frente de la clase y exponer algo ante todo el salón viéndome. Para mi mala suerte, en la escuela donde estudié esto era algo bastante recurrente.
Y más que había una maestra a la que le encantaba que nos aprendiéramos poemas, canciones, discursos, etc., y que pasáramos al frente del salón a demostrar que, en efecto, ya dominábamos lo que nos había dejado de tarea.
Cada vez que me tocaba a mí pasar era… horrible 😰
De los nervios me paralizaba, temblaba, y hasta se me olvidaba lo que tenía que decir (pánico escénico era poco). Y como los demás compañeros de clase ya sabían cómo se ponía este panorama… pues prestaban aún más atención y se burlaban.
¡Era mala para hablar en público! Punto.
A los 12 años me mudé con mi familia a otro estado de la República por el trabajo de mi papá. Y en esta nueva etapa, en este nuevo lugar, en este nuevo colegio… vi la oportunidad de ser una nueva persona.
Siguiendo esta peculiar idea de convertir debilidades en fortalezas me pregunté qué pasaría si me enfrentaba a mi miedo de hablar el público.
Al cabo, en este nuevo lugar nadie me conocía, no me sentiría predispuesta a fallar y no habían etiquetas sociales que pesaran sobre mí.
Así que, como parte de mi plan, fui con la maestra que organizaba eventos escolares y le pedí ser conductora de los mismos. Ella, al ver mi entusiasmo, creyó que seguramente la nueva alumna proveniente de la capital del país amaba conducir eventos y que era buenísima para hablar el público.
Tú y yo sabemos que no había nada más alejado de la realidad…
El primer evento que hubo en ese nuevo colegio al que entré fue un evento dedicado al Día de Muertos. Se acostumbraba que un alumno recitara una "calaberita del Día de Muertos", que es básicamente un escrito que suele rimar y en el cual se recopilan aspectos cómicos sobre la muerte.
La maestra con la que había acudido, me buscó para ser la candidata (claro, después de que no hubo ningún otro alumno voluntario para escribir y recitar la calaberita en el acto cívico de todos los lunes, ante todos los alumnos del colegio y papás invitados).
Así que seguí con la farsa. Le dije que sí, que claro, que para mí sería un honor escribirla y deleitar a todos los presentes con esas características rimas que impregnan de humor la muerte.
¡En que &%$@ me acababa de meter!
Así que escribí la calaberita que todavía, años después, recuerdo que empezaba algo así:
"La embajadora de la muerte ha llegado. Aquí la tienen. Llegó para decirles, mis estimados, que hoy día de muertos… ¡celebremos el festejo! Con alegría y con los más muertos. Con sus sexys cuerpos calaberosos, que lucen hermosos, ¡listos para festejar este día grandioso…".
El caso es que a la maestra "le encantó" este escrito (o por lo menos eso me dijo, por que tiempo después la volví a leer y me di cuenta que era verdaderamente mala 🤣). "Ahora sólo apréndetela para que la recites el lunes ante todos los alumnos y papás", me dijo.
¿Qué te puedo decir? El fin de semana anterior a ese lunes fue lo peor.
Por más que traté de llenarme de pensamientos positivos como "tú puedes dejar atrás el pasado y tus defectos, es momento de vivir una nueva vida, aquí nadie te conoce…" y puras de esas… la verdad es que sentía unos nervios realmente garrafales 💀
Me había puesto ante una situación muy desfavorable: ¿cómo iba a salir de esta si siempre me colapsaba al hablar el público?, ¿y si todos se burlaban de mí? Mi reputación habría terminado justo antes de que una nueva historia pudiera comenzar.
Bueno, regresando a lo que nos concierne: repasé una y otra vez la dichosa calaberita y me visualizaba haciéndolo muy bien ante el público. Hasta leí artículos en Internet y vi tutoriales en YouTube que daban consejos para hablar el público y controlar los nervios.
Así que, según yo, ¡ya estaba lista! El lunes tendría una pelea contra una de mis debilidades. O yo la destruía, o ella a mí.
Y entonces el lunes llegó…
Yo ya estaba lista para tomar el micrófono y recitar mi calaberita ante todos los que estaban ahí.
Minutos antes de que la maestra me presentara ante el público, empecé a sentir ganas de huir, quería simplemente desaparecer, hacer ctrl+z y listo, regresar. Empecé a temblar.
La maestra me pasó el micrófono. Lo tomé. Todos los ojos estaban sobre mí. El micrófono sufrió un vil terremoto en mis manos de tanto que temblaba. Y en ese momento, recordé algo que leí el fin de semana anterior: que si te temblaban las manos podías remediarlo poniendo fuerza en las mismas (apretando el micrófono) y también en los pies. Eso hice y mis manos dejaron de temblar. ¡Fiuf!
Así que comencé a recitar las primeras líneas de mi calaberita. Pero ocurrió algo inevitable. Toda aquella temblorina se me pasó a la voz. Sé que suena algo raro decir que mi voz temblaba, pero vamos, ¡sabes a lo que me refiero! Sonaba como entrecortada, literalmente, como si fuera a llorar. 
Pero con todo y la voz temblorosa, seguí recitando la &%$@# calaberita hasta terminarla TODA. Y todavía hacía los movimientos y ademanes que había planeado para cada parte. Bueno, por lo menos la terminé y no se me olvidó ni una sola línea. ¡Una gran mejora! ¿No? Pero menudo espectáculo de pánico que di.
Estaba acabada. Ya me veía: #LaPeorOradoraDeLaHistoria
Al terminar, todavía dije "Gracias". Entregué el micrófono a la maestra y me dirigí al baño. Y me autoregañé:
"Le diré a mi papa que me cambie de escuela. Eso pasa cuando quieres tratar de ser alguien que no eres; cuando piensas que puedes convertir tus debilidades en fortalezas. ¡Qué ilusa! Todos se burlarán de mí ahorita que suba al salón. 'La de la voz de borreguito' me dirán".
No quería salir del baño. Pero para acabarla de amolar había examen y no podía faltar.
Al salir, se acercó a mí una de las niñas más "populares" del salón. Me dije a mí misma: "Ni modo. ¡Venga el bullying!".
"¿Dónde aprendiste a hacer voz de muerto? Realmente me gustó como escenificaste a la muerte. Te salió súper bien", me dijo. Obviamente yo pensé que ese había sido el comentario más sarcástico y desafortunado de la historia.
Luego, pasó un chico que nunca había visto (que estaba muy guapo, por cierto) y me dijo: "¡Excelente actuación!".
"¡Bola de sarcásticos todos! Me quiero morir" pensé.
Pero con esta tercera intervención, me di cuenta que no estaban siendo sarcásticos…
Vino un profesor que impartía Artes y Teatro: "Realmente me gustaría que estuvieras en el equipo de Teatro, impregnaste de sentimiento y melancolía la calaberita e interpretaste de forma espectacular a la muerte. Nunca había visto que un alumno modificara incluso su dicción y tono de voz para asemejar el concepto del dolor e inestabilidad que provoca la muerte, mientras decías cosas cómicas sobre la misma. Nos transmitiste como un sentimiento de ambivalencia e ironía que no podíamos dejar de ver. ¡Felicidades!". 
Y finalmente, la maestra que me invitó a recitar la calaberita: "Oye, para nuestro próximo evento, que es un Talent Show, necesitamos una maestra de ceremonias, ¿qué dices?"
Ok. Por lo visto todos creyeron que como se trataba del festejo del Día de Muertos, estaba interpretando a la muerte y que por eso mi voz sonaba, literalmente, como de muerto. ¡No puede ser! Eso es tener suerte y todo lo demás… son bromas.
"Primero te ignoran, luego se ríen de ti, pelean contigo, y luego ganas." –Mahatma Gandhi
En fin, el caso es que había superado uno de mis peores miedos. Me había enfrentado a él. Y cuando según yo "todo estaba acabado", recibí más felicitaciones que nunca.
El simple hecho de haberle ganado la partida a esa debilidad, me inspiró aún más para seguir trabajando y practicando por, REALMENTE, ser una buena oradora (esta vez, sin la voz de muerto).
Así que, comencé a leer más sobre el tema de hablar en público, practicaba y me ponía ante situaciones que me exigieran tener que hablar en público (tan simples como leer el evangelio en misa). 
Con la práctica, lo fui haciendo mejor e iba eliminando esos desperfectos que no me dejaban dar buenos discursos.
Ya después hasta subía mis videos a YouTube y en la universidad tenía mi programa de radio. Esa debilidad que no me dejaba ni dormir, se terminó convirtiendo no sólo en una fortaleza, sino en algo que realmente disfrutaba hacer.
Por cierto, ¿ya vista la película de El Discurso del Rey? Es un gran ejemplo de esto que hemos comentado. Si no la has visto, por favor, agenda 2 horas en tu semana para disfrutarla con unas palomitas. ES UN MUST.
La Inesperada Líder
¿Eres de las personas que necesita más de una historia para toman en serio una idea? Yo igual, para qué me hago.
Sólo que esta otra te la contaré más rápido para que podamos pasar a la siguiente falsa creencia. 
Cuando tenía 15 años, una de mis mejores amigas me invitó a un campamento titulado "Líderes del Sur", que básicamente era un concurso al que acudieron más de 200 jóvenes de diversos municipios del estado de Sinaloa con la finalidad de ganar una de las 12 Becas de Liderazgo para estudiar la preparatoria en una de las instituciones privadas de mayor prestigio en México (y la más cara también).
La verdad, me dio algo de flojera el campamentín ese, pero la acabé acompañando para "pasarla bien" y disque conocer gente nueva 🙄
No tenía ni la más mínima esperanza de ganar una de esas becas, pues no me consideraba "Una Gran Líder". A duras penas había dominado el arte de hablar el público; pero liderar, convencer e influir en las demás personas, era otra historia…
Sin embargo, debo admitir que ya me había agradado esto de convertir las debilidades en fortalezas. Entonces, primero pensé y desarrollé una versión propia de líder que fuera distinta a la que tiene el común de la gente. Como ese líder que a mí me gustaría tener. Luego, me dispuse a probarla y escenificarla en las diversas actividades de equipo que ocurrieron en dicho campamento.
Y, aunque sólo planeaba experimentar este concepto de "mi líder ideal" y seguir venciendo mis miedos, para mi sorpresa, los integrantes de mi equipo y el jurado votaron por mí para convertirme en una de las 12 ganadoras de la beca de liderazgo.
Si te interesa, luego puedo compartirte el relato completo de esa experiencia donde revelo el concepto de liderazgo que desarrollé para ganar la beca. De hecho, ese mismo relato fue acreedor a este reconocimiento de contribución a la memoria histórica del Tec de Monterrey.
En fin, te imaginas la cara de mis papás cuando regresé de ese campamento y les dije: "¡Papá, mamá! Gané una beca de liderazgo para estudiar prepa en el Tec.»
Al inicio, ambos creyeron se trataba de una broma.
¿Cómo es posible que su hija que antes era penosa, insegura y de pocos amigos había conseguido una beca, irónicamente, de liderazgo?
Así que les entregué el diploma y la carta compromiso que me dieron y cuando los dos la leyeron no lo podían creer. Tenían lágrimas en los ojos del orgullo que sintieron. 
"No superes tus debilidades, mejor, conviértelas en fortalezas." –Mayneza
Tu inteligencia y talentos no son fijos. Recuerda: el ser humano es adaptable.
No te estoy contando estas historias porque me guste levantarme el cuello, sino porque quiero que tengas un ejemplo más cercano y realista. Yo no era nadie especial. No nací en cuna de oro, ni con más ni mejores talentos que el común de la gente. Era alguien común y corriente.
¡Hasta que me dispuse a probarme lo contrario!
Así que quiero invitarte a que tú también rompas con los paradigmas negativos que tienes sobre ti mism@ y me platiques cómo te fue en la aventura ☺️ 
Creencia 2. Pueder ser muy buen@ en algo pero siempre habrá alguien mejor y peor que tú
Como cualquier persona, sabía que tenía ciertas cualidades, pero me había resignado a que siempre habría un tope, tampoco podía ser LA número uno. "Siempre habrá alguien mejor y alguien peor que yo", me decía constantemente.
Y aunque esta frase me quitaba algo de presión y me hacía sentir conforme con lo que había logrado, en realidad, sólo me estaba arrebatando futuros éxitos. Porque me estaba volviendo una persona mediocre; alguien que jamás iba a poder llevar sus fortalezas al siguiente nivel.
La siguiente frase lo explica mucho mejor:
"La mediocridad es excelente en los ojos de los mediocres." –Joseph Joubert
En el momento que rompí con esa creencia y me esforcé por alimentar mis fortalezas y ser aún mejor en lo que ya hacía bien, me di cuenta de que ese primer lugar no era inalcanzable.
Sólo tenía que convertirme en el tipo de persona que va por el oro y que no se conforma con la plata.
Creencia 3. Que tienes que aceptarte tal y como eres
Sé que esta frase suena súper cute y la puedes usar de excusa para no dejar tu zona de confort, pensando que eres lo que eres. Y punto.
Pero el problema es que si tú dejas que lo que eres ahorita te defina el resto de tu vida, tú mism@ te estás autolimitando.
Es como si yo me hubiera dicho: "A ver, eres penosa. No eres buena hablando en público. No tienes las características de un líder. Supéralo, acéptate y quiérete así; al cabo, tienes otras cualidades". Si yo hubiera hecho eso, las historias de superación que te conté no hubieran ocurrido y me seguiría «tratando de aceptar» como era antes. 
Está bien que te aceptes tal y como eres. Sí. 👌 
Te puede interesar: Supéralo: no eres, ni serás, perfect@
Pero, por favor, NUNCA pierdas de vista que puedes llegar a ser MUCHO MÁS y que estás destinad@ a lograr cosas realmente extraordinarias.
De verdad.
¡De eso se trata el desarrollo personal!
De ser mejor persona día con día y de alcanzar esa versión ideal que tenemos sobre nosotros mismos.
Te puede interesar: ¿Por qué deberías ser diferente a los demás?
Creencia 4. Que tienes que conformarte con lo que tienes 
No.
«No te conformes con lo que la vida te ha dado cuando tienes todo el potencial para crear la vida que quieres vivir.»
Vamos, quiero que te lo digas a ti mism@ (y que realmente te lo creas):
"Tengo todo el potencial para crear la vida que quiero vivir".
Y no. No tiene de nada malo aspirar a más cuando tienes todo lo necesario para conseguirlo.
Tampoco es ser avar@. Más bien, es un indicio de que eres una persona que sabe de lo que está hecha y que no quiere desperdiciarlo.
Creencia 5. Que no se puede tener todo en esta vida
Sí crees que no puedes tenerlo todo, tienes razón.
Pero si crees que puedes tenerlo todo, entonces también tienes razón.
Recuerda: creer es crear, y lo que pienses determinará tu realidad.
Yo conozco gente que no se conformó con tener lo que la vida le dio y construyó lo que soñaba.
"No te conformes con lo que necesitas, mejor, lucha por lo que mereces." –Mayneza
Y sí. Sí existe la gente millonaria, que aparte es feliz, y que además, es gente de principios. Sí, sí la hay.
Creencia 6. Que el pasado determina tu futuro
Si no naciste en cuna de oro, no fuiste el o la más popular o inteligente en tu infancia, o lo único que recuerdas son momentos de infelicidad; esto no tiene por qué determinar tu futuro (a menos de que así lo permitas). 
El pasado ya se fue. Ya no está. Y no vas a poder regresar, ni cambiarlo.
Entonces, ¿para que dejas que todavía te siga preocupando y arruinando, no sólo el presente, sino también tu futuro?
Tú mereces vivir una vida plena y feliz. Te mereces dejar un legado y trascender.
Y nada de eso va suceder si permites que los recuerdos del pasado vengan a estropear los momentos maravillosos que podrías estar viviendo y los que están por venir.
Seguramente sabes quién es ella👇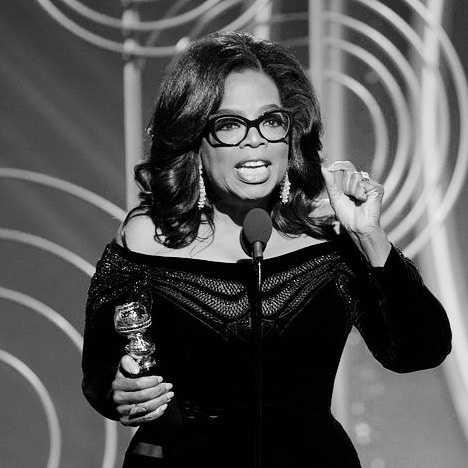 Y si no, te platico.
Oprah Winfrey es una presentadora de TV, productora, actriz, empresaria y filántropa, mejor conocida por su show The Oprah Winfrey Show (uno de los programas de televisión con mayor rating en la historia).
Según Forbes, Winfrey es la afroamericana más rica del mundo. Pero su riqueza no es sólo material, sino también espiritual, pues ha logrado influenciar e impactar de forma trascendental en la vida de miles personas.
¿Pensarías que la vida siempre le ha sonreído?
Pues te diré no. 
Su infancia estuvo llena de abusos.
Los primeros 6 años de su vida, los vivió en un entorno de pobreza extrema, criada por su abuela quien constantemente la maltrataba ocasionándole graves heridas.
De los 9 a 13 años fue abusada sexualmente por su primo, por su tío y por un amigo de la familia. A los 14 se embarazó. Pero, tristemente, el bebé nació prematuro y murió en el hospital una semana después.
¿Cómo una niña con una vida tan infeliz pudo convertirse en la estrella que hoy es?
Te puede interesar: ¿Afortunado o desafortunado en la vida?
Precisamente, porque decidió terminar con su pasado.
Se mudó con su papá a Tennessee, donde acudió a la Universidad del Estado de Tennessee y obtuvo su título en comunicaciones.
Comenzó trabajando medio tiempo en una estación de radio y a los 19 años ya era presentadora de las noticias locales. Se convirtió en la presentadora más joven y también en la primera presentadora afroamericana de las noticias del canal WLAC-TV de Nashville.
Tiempo después, le dieron la oportunidad de entrar a un talk show en Chicago que, en ese entonces, tenía un rating bajísimo… Pero, unos meses después de su llegada, este mismo programa terminó con el mayor rating de Chicago.
Tres años después, el show se renombró The Oprah Winfrey Show y fue transmitido de forma nacional, convirtiendo a Winfrey en una millonaria.
La historia de Winfrey es una de las miles de historias que fungen como el ejemplo perfecto de que puedes cumplir tus metas y objetivos sin importar dónde hayas nacido y bajo qué circunstancias hayas crecido.
Ella no nació en un entorno privilegiado –de hecho, bastante desfavorable–. Ella no nació teniéndolo todo. Tampoco era superdotada. Pero se dispuso a trabajar por crear una nueva realidad y no dejó que su pasado determinara lo que llegaría a ser.
"Crea la más alta y más grandiosa visión en tu vida, porque te conviertes en lo que crees." –Oprah Winfrey
Si a pesar de todo lo que ella pasó, pudo convertir sus heridas en sabiduría (que ella misma lo dice así), desatar su mejor versión y vivir la vida de sus sueños, ¿por qué tú no podrías hacerlo?
Toma del pasado lo que sirva, y lo que no, déjalo justo ahí: en el pasado.
Lo que no fue victoria, fue aprendizaje.
Lo que no te hizo feliz, te hizo una persona más fuerte.
Lo que no te gustó, fue justo lo que te impulsó a buscar un cambio en tu vida.
Así que apaláncate de los aprendizajes que puedas tomar del pasado para construir el presente y el futuro que tanto anhelas.
¡Por cierto! Te dejo este par de artículos que te serán de gran ayuda en el proceso para alcanzar tus metas:
¿Qué pasará si ignoras todo esto y sigues viviendo como lo hacías antes?
La respuesta no tiene mucha ciencia. Como cualquier problema, si lo ignoras, sólo empeorará.
Si tuvieras muchas vidas, no pasaría nada si ésta la desperdiciaras complaciendo a los demás, cumpliendo los sueños de alguien más, o viviendo la vida que te tocó y no la que te gustaría vivir. Pero el asunto aquí es que… ¡sólo tienes una!
Tu existencia importa. Y mucho.
No tienes que esperarte a que el mundo cambie cuando tú puedes ser el cambio que quieres ver el mundo.
Tú decides si optas por tener un rol pasivo y conformista, o un rol proactivo que implique salir de tu zona de confort para liberar tu mejor yo.
Si después de leer este mensaje haces como si nada hubiera pasado y como si tu conciencia no hubiera despertado, quizá el día de mañana sea tarde.
¿Por qué ignorarías algo que te hará sentir plen@ y feliz?
Si llegaste hasta este blog, hacia este artículo en específico, y hasta esta línea, es por algo. ¡Es por algo!
¿Y te digo algo con toda sinceridad? Estoy orgullosa de ti 😊
Me siento orgullosa porque hoy recargaste tu pila interior y dedicaste el tiempo necesario para leer estas más de 5,000 palabras que te invitan a revelar toda la genialidad que hay en ti y a convertirte en lo que estás destinad@ a ser.
Ya diste el primer paso. ¡Felicidades!
Conviértete en el héroe de tu propia historia
A cada uno de nosotros nos escogió un sueño.
¿Serás lo suficientemente valiente para seguirlo?
Y, como el protagonista de tu propia historia, tienes que estar dispuesto a luchar contra estos villanos con tal de ver tus sueños hechos realidad.
En estos momentos ya no eres la misma persona que comenzó leyendo este mensaje. Y esto debería alegrarte.
¿Por qué?
Porque diste el primer paso para convertirte en el heroico personaje que estás destinad@ a ser. Ahora estás consciente de que el primer paso para revelar toda la grandeza que hay en ti es combatir a estos villanos y romper con las falsas (y dañinas) creencias que tenías sobre ti mism@.

Porque has leído algunos ejemplos e historias que te han demostrado que lo que tú pensabas que eran obstáculos o impedimentos para alcanzar tus sueños, son las oportunidades perfectas para descubrir de lo que estás hech@.

¡Porque cambiaste de chip! Ahora sabes que tú puedes crear las circunstancias que QUIERES vivir y que no tienes que conformarte con lo que te TOCÓ vivir. Ahora sabes que tus fortalezas pueden y deben seguir desarrollándose; y que tus debilidades pueden incluso convertirse en tus nuevas fortalezas.

Porque te diste cuenta de que las cosas realmente maravillosas no ocurren dentro de tu zona de confort. Y a partir de hoy estarás dispuest@ a trabajar duro, a enfrentar tus miedos y a sacrificar ciertas comodidades con tal de alcanzar tus objetivos y encontrar tu propósito de vida. Créeme, al inicio cuesta, y mucho, pero realmente vale la pena ser de esas personas que tienen el valor de ir contracorriente y de hacer brillar aquello por lo que vinieron al mundo.
Yo no pretendo hacer que te guste el tema de desarrollo personal, ni forzarte para que reveles todo lo maravilloso que llevas dentro. Al final del día, tú eres libre. Tu eres el escritor de tu propia historia. Y por esa razón, tú tienes la última palabra.
Pero quiero que sepas que…
Si buscas un final DISTINTO, no lo conseguirás haciendo siempre LO MISMO
"Para que las cosas cambien, tú tienes que cambiar. Para que las cosas mejoren, tú tienes que mejorar." –Jim Rohn
O, como lo dijo Henry David Thoreau, «las cosas no cambian, cambiamos nosotros».
Si yo no hubiera hecho ese alto en mi vida para recargar mi propia pila, decirle adiós al pasado, y dedicarme a algo que me retara y al mismo tiempo que me hiciera sentir plena y feliz como persona (mi Ikigai), hoy seguiría sintiéndome incompleta, desorientada e insatisfecha con mi vida. Triste de verme cumpliendo los sueños de alguien más y no los propios. Y también enojada conmigo misma al saber que no estaba desarrollando al máximo mis talentos ni poniéndolos al servicio de las demás personas.
Y no quiero que eso te pase a ti. Empieza a ser HOY lo que quieres ser, porque la vida es corta y sería muy triste morir sin haberse atrevido a serlo.
Quiero que puedas desatar toda tu magia. Por eso me animé a ser transparente contigo, contarte un poco sobre mi historia y compartirte mi experiencia en este mensaje.
Y me encantaría que tus amigos y las personas que más aprecias también pudieran leerlo para que se dispongan a revelar su mejor yo.
Pienso que las redes sociales no son sólo para compartir memes y videos graciosos, sino también contenidos que puedan marcar la diferencia en la vida de otras personas. ¡Así que siéntete con la libertad de compartirlo!
El viaje hacia Tu Mejor Versión
La verdad es que yo todavía estoy lejos de llegar a ser mi mejor versión, pero al menos, cada día que pasa me aseguro de estar un pasito más cerca.
No tengo un título en psicología ni reconocimientos internacionales que me acrediten como una eminencia en el campo del desarrollo personal, pero aún así estoy dispuesta a seguirme capacitando y generando contenidos que te puedan guiar y ayudar en este viaje hacia tu mejor yo.
Se podría decir que, con lo aprendiste en este post, es como si ya tuvieras en tus manos el boleto para viajar hacia la versión ideal de ti mism@. 
Pero todavía falta emprender este viaje, enfrentar la turbulencia que se presentará, y una vez llegando al destino, trabajar por tener todo lo necesario para vivir el viaje que siempre soñaste.
Pero no estás sol@.
¿Te animas a que emprendamos este viaje juntos?
Me llenaría de gusto que te unieras a esta comunidad de personas que se están autorevolucionando para liberar al genio que llevan dentro.
¿Cómo puedes hacerlo?
Suscribiéndote a mayneza para que pueda compartirte por correo contenidos como este que te impulsen en este viaje hacia tu mejor versión.
Por cierto, al igual que tú, odio el spam. No me gusta que cuando me suscribo a un blog sólo me manden puros correos promocionales y contenidos que no me generen ningún valor. Así que definitivamente no quiero eso para ti.
Siempre he tenido un compromiso real con todos y cada uno de mis suscriptores.
Cada contenido que hago –además de echarle todo el corazón– me aseguro de que no solamente sea útil, entretenido e inspirador para ti; sino de que realmente puedas llevarlo a la práctica al compartirte los materiales, procesos y recursos necesarios para ello.
Y si quieres ponerte en contacto conmigo o que colaboremos en algún proyecto o causa, puedes hacerlo en esta sección.
Una vez más, me siento orgullosa de que hayas tomado el primer paso. No te defraudaré.
¡Estamos en este viaje juntos!
Un abrazo  🤗
Tu amiga, Mayneza
*Mayneza participa en el Programa de Afiliados de Amazon México, un programa de publicidad para afiliados diseñado para ofrecer a sitios web un modo de ofrecer productos relevantes a los intereses de los usuarios y obtener comisiones de publicidad al incluir enlaces a Amazon.mx. Las comisiones obtenidas mediante este programa contibuyen a que el blog pueda seguir de pie ayudando a las personas a liberar su mejor versión. .